MADE IN USA!
FREE Delivery & Installation
Metal Garages
We Accept Visa, Mastercard, Discover & American Express
Metal Carports
Affordable - Professional
Guaranteed Work - Insured
Metal Buildings
The most important aspect of metal as a building material is the great flexibility of design.
Metal Barns
A metal Barn gives your livestock and equipment the shelter it needs.
Steel Carports
Protect all your vehicles... cars, trucks, RVs, equipment, boats, jet skis and more...
Carports, Garages, Barns, and Buildings... Are All An Excellent Choice
Metal Carports Are A Great Option For Protecting Your Car
Carports are good for protecting your vehicle from the elements: sun, rain, wind, snow, and ice. If you only need to weatherproof your vehicle (and provide shelter for yourself when you are loading and unloading), then this may be the best option for your needs. They are essentially a kind of shelter for cars.
Today's can be as secure as a garage and it certainly protects your vehicle from natural catastrophes, tree limbs, debris, sticky tree sap, etc. Built of high-grade steel, ours are made to last. We offer just about every conceivable option to allow the most flexibility for our customer's needs and desires.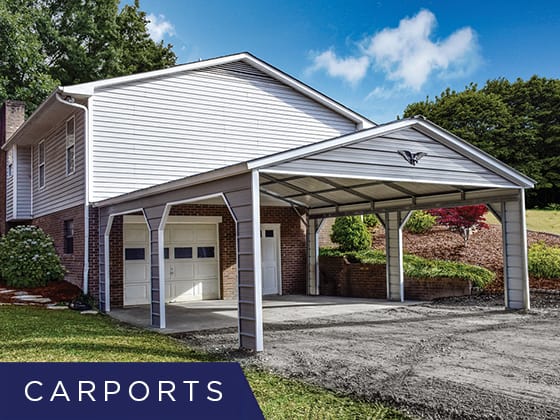 Carports come in all forms as well as sizes however they also come in a variety of materials also. Steel is the most durable as well as beneficial for long-term utilization or heavy-duty coverage metal carports. There are really two fundamental types related to these types of carports and they are aluminum and steel carports. Occasionally you are able to actually have a mix of the two, however, this option is much less common as well as can be expensive.
So to keep things simple and easy you really want to go with an all-steel all-aluminum carport so you can keep your costs evenly across the board. The big problem with aluminum is durability and cost. Aluminum is much more expensive to build with and is more expensive to weld. Nowadays the advantage of aluminum (rustproof) has virtually been negated by new processes and paints used in steel materials.
Carports also offer convenience in location. They are like the garage spaces you have in your houses. They function the same way in giving protection to your cars. The only difference is that carports are not permanently affixed to a location but have concrete bolts or tie-downs that can be removed allowing you to relocate the unit to a different location with relative ease. If it does ever need to be moved, follow installation and moving directions that came with the kit, or find instructions on the web or call your local dealer for advice on how to move your particular unit.
Steel carport structures nowadays are not only made to protect cars from being exposed to thieves and depreciation but also for other fun purposes. You can enclose it entirely to use as a warehouse or storage building, you can even finish it out for a man cave or workshop. Cattle and horse ranchers love the flexibility, portability, and cost-effectiveness of these types of structures and have found many creative uses for them on their farm or ranch. I challenge anyone to give us a call and try and stump us with a new idea and see if we can't come up with a solution. Carports are fast becoming the one option in garage extensions and renovations.
The main advantage is the simplicity and functionality of the design. Many carports offer the most basic protection, with posts and an awning to shade vehicles from the heat of the sun, the wear of rain. Some designs are more sophisticated, though, many built to complement your home's theme and construction. Indeed, some carports are so elaborate it's easy to mistake these for actual garages, which is an advantage if you want to improve curb appeal with an installation that's not in contrast to your home's design.
Metal Garages That Are Not Just Inexpensive But Durable As Well
Whatever the types of metal garages that you have to choose from, durability is vital. Some of the cheap metal structures on the market in the US today are flimsy affairs and most dealers are not knowledgeable about certain upgrades that will strengthen them.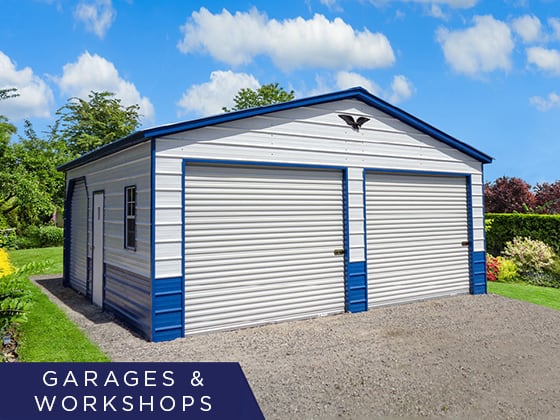 This means that over time, the garage is more likely to require maintenance. Make sure your dealer is knowledgeable with his products and that he can advise you on the different aspects of your particular building so you get the best product to fit your needs. Ask about the warranties. Any structure worth it's salt will have at least a 10-year warranty, ours, for example, have a 20-year warranty.
While the traditional wooden structure has a roof that is prone to leaking, especially if it is located in the south and hits by a lot of spring and fall storms, steel buildings and metal garages are virtually impenetrable to the elements, keep your valuable possessions safe from all kinds of weather! Anyone can build steel garages themselves because you will find currently prefabricated kits available. The prefabricated kits include detailed instruction and a manual, along with labelled components. Actually, it isn't only the metal garage that may be constructed with prefabricated metal building kits.
Farmhouses, gymnasiums, army quarters, churches, and even houses are created of prefabricated metal structure kits. A kit has all of the components and instructions needed. All that's required is typical sense and a little effort. Using the prefabricated kit, you save some on construction expenses. Moreover, you are able to take the metal garage with you wherever you go because you are able to just disassemble and reassemble at your new location.
Metal Barns For Your Farm And Ranch
There are many reasons one would select a metal barn over a wooden one. For one there is less maintenance. Wood rots. metal does not. Wood is subject to insect predation but not metal. Long gone are the days of replacing rotten timbers and termite-infested boards. Metal barns will help protect the things you already own, saving you money in the long run from having to purchase these metal barn roofing items as new as the old ones wear out.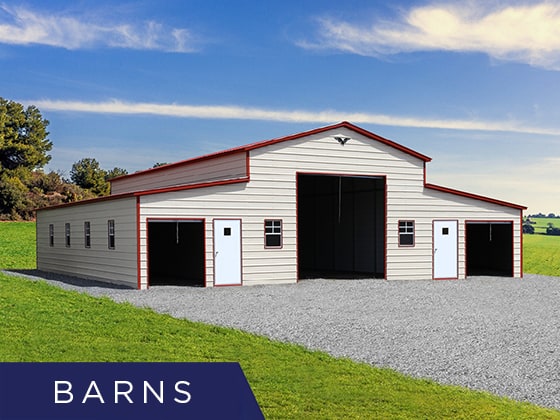 The ones you look at on our website show a lot of different color options. You can choose from so many so you won't have a standard, boring-looking barn. You may also want to add some windows or extra to your barn to make it look even nicer something that looks like it will be easy to do.
Steel buildings and barns are able to withstand tornado and hurricane-force winds. It just makes sense once you think about it. Wooden barns break and splinter in the face of tough and strong wind gusts, steel barns are made of steel (obviously) and can handle intense weather patterns. Some steel buildings are tested up to 120-130MPH hurricane-force winds. That's the strength you can believe in and it saves you a lot of money on reconstruction after hurricane season every year!
Steel structures are easy to insulate. Insulation can add a lot of cost to a building, but because these buildings and barns are prefabricated they are easy to insulate using insulating foams and tapes, saving you a ton of money on heating and cooling, unlike those old un-insulated wooden structures you may be dealing with currently. They can also be easily vented, saving you a heated struggle in the summer sun!
Metal barns have evolved and today lead the charge in providing on budget, on time, eye-catching projects for its clients. For developers and owners hesitant about metal structures, there are great benefits they can be shown that would constructively impact the form and function of their project and, in the end, add value to the bottom line. Those who have worked in the agricultural sector for years have seen the damage that a wooden barn can do to a farmer's budget.
Metal Buildings Outlast Any Other
Metal buildings are fast gaining popularity and preference over conventional building materials such as wood and lumber. The reasons are the several advantages you enjoy with a metal building as compared to other materials where such benefits are absent.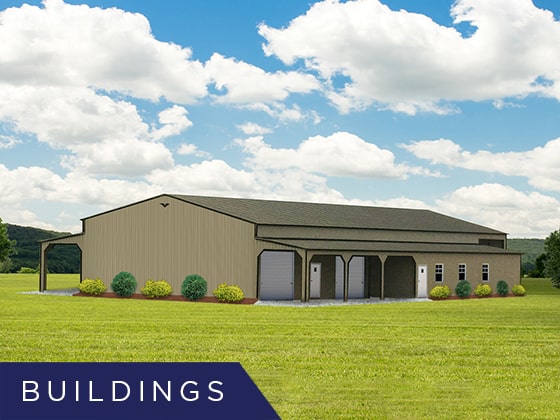 These types of buildings have become very common in the last decade. They are used not just for commercial and industrial use, but for residential use as well. From houses to storage buildings in back yards, it seems like everybody wants a building made of steel. The reason a lot of people prefer the construction of this nature is that the buildings are so easy and quick to put up. Also, there is the cost advantage: Buildings made of metal are relatively cheap when compared with buildings of other materials. What distinguishes them is that they have low maintenance costs as well. Building a with metal is a one-time affair and the expenditure is a long-term investment.
When you buy metal buildings, size is the first choice; it is one of the main determinants of price. After that color will be one of the next choices you'll be able to make. You will want to choose a color right when you order. They range from slate grey, black, and dark blue to warm tans, reds, yellows, and almost any color you can think of. This lets you create the ideal look for almost any purpose.
Another common use for metal buildings is storage. The older and more established we get in life, the more junk we seem to accumulate, and there isn't enough attic, basement, second bedroom, and garage space to store it all. Rather than hiring out an expensive storage facility, you can build your own storage space at a good price by consulting a metal structure company.
Farmers have been using metal buildings and realizing how well they work for agricultural purposes for years. Metal buildings are used by farmers to house farm animals, store feed and supplies, park tractors, keep hay, harvests, and grain the list is endless.
So whether you are looking for carports, metal buildings, metal barns, or metal garages, make sure to call 409-242-5519 to get the best quality product at the best prices today.
77701, 77702, 77703, 77705, 77706, 77707, 77708, 77713, 77514, 77519, 77611, 77538, 77619, 77622, 77560, 77564, 77625, 77657, 77627, 77630, 77632, 77640, 77642, 77651, 77655, 77585, 77659, 77662, 77597, 77665, Jefferson County, Chambers County, Hardin County, Orange County, Liberty County, Beaumont, Anahuac, Batson, Bridge City, China, Daisetta, Devers, Deweyville, Evadale, Gilchrist, Groves, Hamshire, Hankamer, High Island, Hull, Kountze, Lumberton, Mauriceville, Nederland, Nome, Orange, Orangefield, Port Arthur, Port Bolivar, Port Neches, Raywood, Sabine Pass, Saratoga, Sour Lake, Stowell, Thicket, Vidor, Wallisville, Winnie
FREE!
Delivery & Installation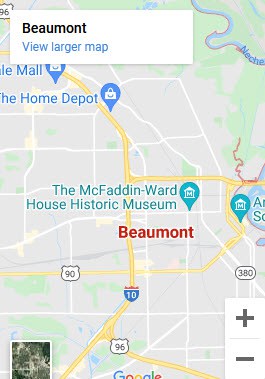 Monday: 9am-6pm
Tuesday: 9am-6pm
Wednesday: 9am-6pm
Thursday: 9am-6pm
Friday: 9am-6pm
Saturday: Closed
Sunday: Closed
Cashiers Check, Money Order, Visa, MasterCard, Discover, American Express